Welcome...
to GoodChurchWebsites.org.uk
Making a new church website?
Wondering if the site you have is good enough?
Use this site to get non-technical, jargon-free help and advice.
General advice about starting a new church website, covering planning, management, structure, presentation, how to write for the web, pitfalls to avoid...
Advice about the different subjects which church websites typically cover.
The Good Church
Websites Award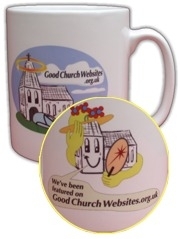 We will award one of these wonderful mugs to the managers of all the church websites we feature in our Good Examples section.
And we hope others will find the examples are a help when improving their own church websites.
Verse of the Day
John 10:7, 9-10
"Therefore Jesus said again, "Very truly I tell you, I am the gate for the sheep. I am the gate; whoever enters through me will be saved. They will come in and go out, and find pasture. The thief comes only to steal and kill and destroy; I have come that they may have life, and have it to the full."
Brought to you by
BibleGateway.com
. Copyright (C) . All Rights Reserved.